Tony Gattari
Professional Speaker
What Tony Gattari speaks about
Tony is a business educator and professional keynote speaker. His passionate practical, real life and enthusiastic style makes him an ideal keynote speaker for any session.
Tony is considered to be a "Guru" in the following business arenas. He provides inspirational keynote speeches on the following subject matter:
Sales
Marketing
Negotiation
Retail
Leadership
If you want results then make sure you choose Tony as your next keynote speaker!
---
Articles by Tony
---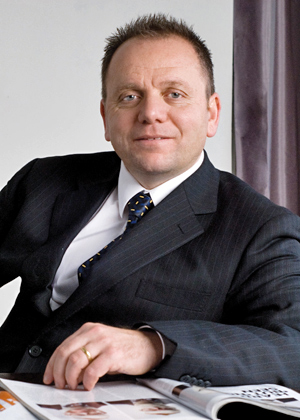 His Story so far
Tony Gattari was born and grew up in Sydney's outer Western suburbs to hard working Italian parents.
Deciding early on that he didn't want an ordinary life, Tony graduated from the University of Western Sydney with a business degree and secured a job as an organiser of Harvey Norman's computer and communications division. Within a few years he was promoted to general manager and increased the division's turnover from a healthy $12 million to a staggering $565 million.
At the height of his success, Tony left Harvey Norman and began his own venture, Smartbuy in the field of online retailing. It was during this time that Tony's courage was really tested, as he was forced to overcome technology stock crashes, collapsed business partnerships, nervous investors and a myriad of other problems. He quickly learnt that attitude to adversity was what determined true success in life. Tony survived a 'perfect storm' of market trouble and emerged as the CEO of a profitable technology company, bringing nearly all of his original employees with him.
In March 2002, Tony stepped down as CEO of Uniqueworld to set up a new company, Achievers Group Pty Ltd. Some of his large business clients include, Cisco, Australia Post, Gloria Jeans, Harvey Norman, LG Electronics, Sanyo, Mortgage Choice, Rebel Sport and many other names in addition to more than 110 small to medium sized businesses. Tony also spent one year working as a CEO of a Public listed retailer.
Known as a 'doer', Tony is also a powerful business speaker and keynote speaker who has educated thousands of business owners around the world. He is author of "Business Success " and co-author of "Pillars of Business Success" and "Marketing success" and has contributed as a key author to "Secrets of Tops Sales Professionals Exposed " and "Secrets of Marketing experts exposed" and has articles read by over 200,000 people every month. He has also starred in a number of business training products and has also created and presented a business building program on Pay TV.
As a keynote speaker Tony loves to inspire with his principles of business and personal success.
---
Tony is the perfect choice for
As your next:
Motivational keynote speaker
Business keynote speaker
Inspirational keynote speaker
Leadership keynote speaker
Corporate keynote speaker
Keynote motivational speaker
Sales keynote speaker
Motivational keynote speaker
Professional keynote speaker
---
Watch Tony Live
---
What others say about Tony Gattari – The Professional Speaker
Tony is highly experienced guy that delivers relevant and direct training and advice for today's increasingly challenging business environment. I am normally circumspect as to the lasting effect of external training or business coaching, but Tony has dispelled that in delivering energetic and practical sessions to a wide range of people in our company. I also like the fact that he can deliver effective advice on topics that range from the importance of a person's interpersonal skills to the no nonsense requirements of managing cash flow. I have no hesitation in recommending Tony and if you engage him, you will definitely get value for money."
John Slack Smith – Chief Operating Officer – Harvey Norman
Tony Gattari, is not just a speaker he is a peak performance motivator. He has an uncanny ability to capture an audience, move them to action and get results. He is exceptional. Tony is no theorist. He has been there and done that. He has marketed the T-shirt, put the slogan on the T-shirt, sold the T-shirt and created a demand for more T-shirt."
Pat Mesiti – International speaker – Author and Millionaire Mindset Founder
Tony is a sales training expert and speaker with a unique edge. What's that? It's his RESULTS. He lead a team that bought Harvey Normans Computers up from a few million in sales to a staggering $700 plus million. The guy's a rainmaker. Plus, he's an incredibly amusing storyteller, passionate speaker, and an all round great guy. Could not recommend him strongly enough."
John Anderson – Customer Acquisition Expert, Conversion Masters
Tony is a brilliant presenter and makes sure his message is entertaining but direct, keeping his audience highly involved and interested. Our team of 32 Advisers all rated Tony's presentations as 'excellent', with many commenting that his were the best motivation sessions they had ever attended, and how they will now implement changes in their day to day processes following on from what they heard. He was fantastic and definitely made our Conference a success. We will be working closely with Tony in the future to help our team achieve their goals. Definitely highly recommended for any team wanting to lift their goals and achieve results.

Tony teaches...Choose your A class customers. So I did. I chose to stick with Tony. From that working relationship, we have now done many projects together. Working for & working with!"
Tina Evans BA – CFP CM CLU – AFA General Manager Camelot NZ Limited Partnership
Tony's high energy and passion for what he does is contagious. In my opinion, Tony is a total professional and at the leading edge of sales and marketing not just in Australia but internationally. His knowledge, his skills and the skills and strategies he teaches come from the real world experience. I recommend that you speak with Tony if you are serious about growing your business."
Wayne Berry – CEO – Top Gun Business Academy
I recently saw Tony speak at a conference and he was amazing. Brutally honest and engaging, everyone was hanging on every word. Never seen a speaker like him, just brilliant."
Matthew Keys – Residential Business Development Manager– Maxwell Collins Real Estate
Seeing your presentations today was grounding and inspiring. I appreciate your directness and candor, being an eagle and in summer. Thank you and I look forward to seeing you again."
Lisa Indge – Director Lets Rent – Property Management Expert – Renting Specialist – Managing Risk for Investment Properties
Both of your presentations today where nothing short of amazing Very inspiring and motivating. Thanks again for giving me momentum to move forward."
Robert Harris – Senior Property Manager – Pure Leasing Central
Thank you for such a wonderful session today. The timing could not be better! Your story is inspiration, entertaining and had me and my team thoroughly enthralled for the entire hour. Thank you."
Natalie Leslie – Managing Director – Elders Real Estate Ballina
Tony is an amazingly gifted businessman whose incredible history backs his passionate presentations.

Our clients have had nothing but absolute praise for Tony's marketing workshops - he oozes enthusiasm and loves his work.

Tony's outstanding work is only surpassed by his humility, integrity and generosity - he has (twice - once with Peter Irvine) helped Hope Shop raise much-needed funds to support local people in crisis."
John Parer – Manager of Mid Coast Care Hope Shop (www.hopeshop.org.au) – Pastor at Honour Church, Port Macquarie (www.2honour.com)
Tony is also a great friend. As a business educator he is second to none. As a speaker, you will be hard pressed to find a more passionate and 'influential' speaker. And as a guy - It is hard to find business people with as strong a moral and integrity stand as Tony. Basically, I love him. He's a barrel of laughs PLUS he actually knows what he is talking about. I'm glad to call Tony a mate."
Daniel Steinhauer – Business Owner – Fusion Video
Thank you Tony, your enthusiasm and ability to recover from adversity was the spark that re-lit my passion to learn and push my boundaries, I look forward to implementing these basic, attainable principles into every avenue of my life, be it work or personal.
Elicia Barugh – Executive Property Manager – Noel Jones
Tony was our motivational speaker at our last sales conference. He was also our "closer" of the conference and what a good choice he was. The whole room was following his every word, he was enthusiastic, energetic and drove home the point we wanted him to make. Our New Zealand director was at this conference as well and he hired Tony straight away for their NZ conference. We will certainly use Tony again."
Uwe Adam – National Sales Manager – Haefle Australia
Tony gave an awe inspiring talk at my CEO Institute meeting this week. I encourage everyone to make yourselves familiar with Tony's work. It will change the way you think about how you deal with people at work and in your personal lives. It was also highly entertaining."
Meryl Pearse – Principal – Space Architecture
I have been and [am] still dealing with Tony and [therefore] understand why he is such a success in business today and has been for so long! Tony not only has the right message, which he brilliantly shares, he most importantly follows up and demonstrates by his actions what he means. Thanks Tony, you are inspiring. Not only by your words, but also by your actions."
Harry McIntosh – Sales and Sales Management Training – GET SET 4 SALES
Just finished a mind-blowing couple of days at a conference where Tony was the main speaker. I was inspired, educated and entertained simultaneously. I would recommend any business owner who wanted the best for their staff should engage Tony or his materials."
Sam Walter – Financial advisor
Ten minutes was all it took, and our business was turned upside down!

Have you ever had a light bulb moment? We both did when we first met Tony Gattari. We thought we were doing everything right in our business, but oh how wrong we were!

We had no idea there were so many ways to improve our business. Tony has exposed us to everything from the mindset of a successful business owner, right through to effective marketing (not advertising) strategies, and we love his upfront advice, like 'If a horse is dead, dismount!'

And then we read his book! 'Business Success' is now our business bible. You don't just read this book, you actually interact with it! Every chapter is full of encouraging exercises designed to help you learn, grow and define your business more clearly. It encourages us to ask the right questions and take the right actions, helping us grow our business.

Tony, through his wisdom and teachings, has helped us define an exciting vision for our business. We're both looking forward to working closely with Tony to help build our business further!"
Warren & Olga
I feel I cannot recommend Tony Gattaris work as a presenter and speaker highly enough. Having had the privilege of MCing the Laser Group International Conference 2013 I introduced Tony twice to the 400 delegates, who savored every piece of wisdom, insight and energy that Tony brought to the stage. If you need a spark to inspire your conference, Tony Gattari can most definitely provide it."
Bruce Hopkins – Actor/MC/Voice Artist/Company Director
Tony was a fantastic presenter and facilitator, highly motivated and knowledgeable. Tony was prepared to invest (in his own time) in finding out more about our industry and was therefore able to relate incredibly well to our course participants. I would highly recommend Tony for presentations on a range of topics."
Craig Sharp – Executive Officer – Training and Education at PGA of Australia
Tony is a man after my own heart. Having heard Tony speak on several occasions, it is so refreshing to find someone of his caliber, having operated at the top end of business, who exalts the concepts of authenticity, integrity and commitment, concepts sadly so absent in business today. As a bonus, he is also incredibly entertaining and deeply passionate about helping people build better businesses and lives."
Andrew Abel – Managing Director – Invented Future
Tony is a seriously talented presenter. He is extremely generous with his time and ideas and has a knack of motivating people to the next level."
David Young – Owner – Glenavon Finance
Tony's presentation to our business network group was absolutely dynamic. His insights on marketing success, based on very grounded experiences, gave everyone in the audience valuable tools to directly employ in their businesses. All walked away with a great tips and buckets of inspiration! As usual, Tony Gattari delivered! Thanks, Tony!"
Bill Parker – Director – Campbelltown Chamber of Commerce
Tony is one of the most exceptional sales trainers I have met; with a deep understanding of people, sales, motivation and what makes customers buy. Unlike some others in sales training he has 'been there and done that'– as a highly successful former CEO, and sales executive. His training sessions are entertaining, educational and motivational, with many creative techniques and ideas that can be immediately implemented. Hire Tony before your competitors do!"
Yvonne Howie – Chief Executive – NSW – The CEO Institute
Passionate, engaging, and always entertaining. Tony Gattari knows business. He knows selling. He knows people, and he knows audiences. In the words of Steve Jobs, Tony is insanely great!"
Peter Letts – Producer – Business Essentials
Thanks Tony for your inspiring words at the Darwin Laser Conference. As usual your talks are great, I'm glad my wife was there this time as I kept telling her how good you were and now she got to witness first hand what I have been telling her. I wish I had you in my office every week!"
Joe Pasqualini – Director – Laser Electrical Wellington Point
I had the enormous pleasure of seeing Tony in action during a conference in Thailand in April 2011. I have been involved in the training industry for many years and can honestly say that presenters as compelling, professional and as passionate as Tony are few and far between. The audience [was] inspired and the feedback after his session was first class. I would wholeheartedly recommend Tony to any company looking for real value and superb delivery of great content."
James Hargreaves – Director – The Training Practice
We hosted 430 delegates at our Annual franchisee conference in Christchurch NZ in October 2010 & Tony attended as a presenter. He not only delivered a captivating keynote that informed, educated and entertained our Franchisee business owners, but inspired and delighted them. He created such a buzz and impact that we've invited him back again in 2011 not only to deliver a presentation, but also to conduct and interactive workshop for our 500 delegates. Thanks Tony."
Steve Keil – Director – Laser Electrical and Plumbing Group
Tony is one of those rare genuine and brilliant business thinkers that rises above all the other business "gurus". He is truly inspirational and someone who has earned his wisdom by not being afraid to roll up his sleeves and do the hard yards. He was mesmerising in the recent Fiji seminar that I attended where he shared his cutting-edge business strategies. Tony is a legend."
Ari Galper – Unlock The Game – #1 Trust-Based Sales Expert – Founder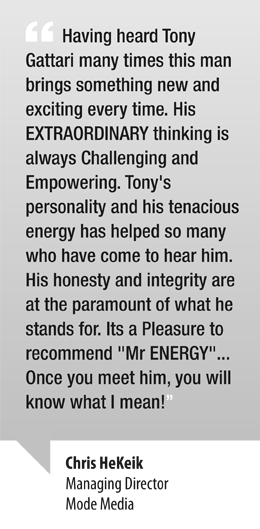 I have had the opportunity now on 3 separate occasions to hear Tony Gattari speak and well, each time he has delivered the goods. You see the guy has boundless amounts of energy and you can't help paying attention because it's clear he is passionate about his message. I know you're probably thinking how different can he be from other speakers on the circuit... my response... you can't afford not to find out. At a recent 3 day conference in Fiji I had my husband in the room for the first time and of all the speakers that left an impression it was Mr. Gattari, why you might be thinking, because Tony doesn't just have the energy or the passion or the experience he has an innate style of delivery. It's like he can unpack what most other speakers make complicated in a way that actually makes sense. There's one concept he shared on how to recognise customer types and I have to tell you since he gifted it I can now easily work out the best strategy to connect with the customer and build trust in half the time it would traditionally take. Tony, thank you for the generosity of sharing your hard earned experience. You have made the game of sales fun!!"
Angelina Cirelli-Salomone – Owner – Unique Business Advantage
Maybe it's because he is Italian that he is so personable - but all I know is that I was totally engaged from the beginning to the end of Tony Gattari's presentation. Tony's vulnerability in sharing 'how it really was and is now' in his own life as a top-flight business executive caused me to truly examine my own motivation. I readily took on board his wisdom around the true meaning of success in all areas of my life. Tony is very funny, truly provocative and a master of the stage."
Yvonne Godfrey – Miomo – Creator and Director
Tony is the consummate enthusiast and provocative idea generator. He is steeped in quality experience derived from real world learning. Tony is not your usual consultant. He has definitely "been there, done that", and adds practical, applicable, bottom-line enhancing value. Whether you are looking for a passionate sales conference speaker or a full strategic sales and marketing overhaul, Tony is your man."
Mark Bilton – CEO – Hagemeyer Brands Australia
I have attended 4 of the seminars which Tony has be a presenter and or co-speaker at. Not only is he high energy, but he is an expert – he has walked the walk and can talk the talk in terms that are easy to grasp and later apply in business. I highly recommend Tony, and recommend you take your team with you. You don't want to miss a thing!"
Louise Beaumont – Sales Manager – Creative House Publications
Tony spoke at a conference in Canberra and his input has greatly influenced my own business ideas. With a very impressive track record that speaks for itself, he communicated some of the concepts and mindsets that have lead to his success. He does not sell fad products but is a trainer, more interested in making you a successful business owner or franchiser or whatever it is you are pursuing. He's a very humble but confident and honest about his mistakes and weaknesses. And he was happy to talk to me personally for a good amount of time too which I really appreciated. I can be quite skeptical of people claiming to know about success in business but my notebook is full of Tony Gattari teaching. As someone who is working on an idea with the intention of implementing it as a real and viable business, I will continue to seek Tony's influence in which ever mediums available to me."
Aaron O'Neill – Java Web Application Developer and Adobe SmartForms Specialist
I just attended the 2 day 2012 Ignite Program with Tony and his team from Achievers Group. It's been one of the best 2 day events I've ever attended, (and I've been to many around the world). The level of excitement, humor, enthusiasm, knowledge, and practical application provided by the team (Tony, Ingrid, Peter, Chris, Dan and Stuart ) in the areas of Marketing, Sales, Branding, Leadership, Negotiation and Internet optimisation was awesome. Am now a huge fan and will be looking to get these guys involved in my next business role which has a number of significant local and overseas growth related needs. Still buzzing guys."
John Walker – Management and Business Consultant – Self-employed
I have heard Tony speak about business on 2 separate occasions and have to admit that the man is exceptional. He can take the most complex business concepts and verbalize them in a way that anyone can understand, appreciate and appeal to. Not only that, he is extremely generous with his knowledge and personal resources. You will get REAL PRACTICAL tips from him, whether you are a CEO, entrepreneur or a salesperson just starting out, he is the one business speakers you just MUST LISTEN TO. (And I've heard a fair few!)"
Dr Avnesh Ratnanesan (Avi) – Director and Executive Producer – Araya Pictures
Tony Gattari is a dynamic, compelling presenter with a wealth of practical information around many facet's of business. His humorous story's around a diversity of business information is delivered in a memorable way that creates a shift in thinking and more importantly the doing - follow through! I would recommend him to any business event or program big or small."
Libby Dedman – Owner – Just Liberated Hairdressing Salons – Liberated Business and Liberated Life Conferences
Over the years I have seen many speakers and educators on stage presenting their expertise, but not many can engage the audience like Tony does. I've had the pleasure of seeing a number of his presentations and each time he thoroughly entertains while still getting his valuable message across. I would recommend Tony as a speaker to anyone looking for laughs and great stories that educate and inspire you."
Carl Taylor
I have seen Tony speak a number of times and have come to know his work well over the past year or so. Tony is an inspiration to those businesses people (like myself) who need effective sales & marketing strategies made easy (and fun!). His approach is no nonsense and his content is rich. It's no wonder he has achieved so much with the highly reputable companies he works with & consults to. As a speaker myself, I will always analyze speakers in terms of their delivery, message and authenticity – and Tony ranks highly on all accounts. He is real, dynamic & most importantly – delivers high value content. Go you good thing!"
Jason Jelicich – Barmetrix Training
When it comes to strategies for sales and marketing, Tony's insights are brilliant, and his energy is infectious!"
Heather Maloney – CEO – Contact Point IT Services Pty Ltd
Tony was incredible. His ideas and strategies on how to carry out 'Effective Sales Negotiations' at a high level came with very clear directives and was born from a wealth of experience in his industry. It was very clear to all that he was a leader in his field and I look forward to working with him again in the near future."
Michael D Russo – TV Host at Bankruptcy Rocks TV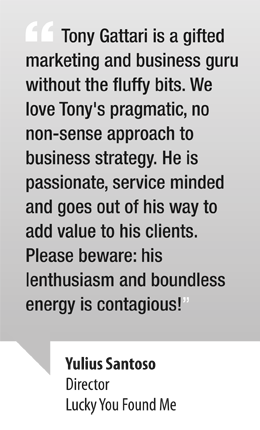 Tony Gattari is one inspirational speaker...he is so passionate in what he has to say. I have been privileged to see Tony speak on two occasions...his presentations are highly professional and relevant to his audience...he gets10/10 from me!"
Randall Smith Director – Churchill Education
Tony brings with him the much needed pragmatic, practical hands on experience gained in achieving outstanding results in business to the boardrooms and conference platforms. His style is engaging, challenging and entertaining. His life is the testimony to his teachings. It's impossible to not be challenged and inspired!"
Sandie Leong – Chronic Pain Clinic
"I have had the pleasure of hearing Tony speak on 4 occasions now and he is just brilliant! The way he delivers business principles in a practical manner using stories and analogies makes things so understandable. He can take a complex topic like Business Finance and deliver it in such a way that any one can understand, which is an amazing skill. He delivers his presentations with such conviction, passion and enthusiasm that the audience is completely engaged."

Brendon Granger – Owner – Business Development Asia Pacific
Tony Gattari is an outstanding sales, profit and business strategist. Tony's straight shooting approach gets results. From a recent dynamic advanced negotiation strategies presentation that Tony delivered I was able to take immediate action on it and implement one of the techniques in a vendor negotiation for a win/win and ultimately a great result for my client. My dealings with Tony have been nothing but positive with his skills both as a presenter and a business consultant."
Greg Cassar – Owner – InternetMarketingDoneForYou.com
Tony is absolutely amazing at conveying the core principles that really make a business tick and the makeup of a true leader in business. I have been at 2 events where Tony has presented and he is always spot-on and an inspiration. I have no hesitation in recommending Tony as an expert in business growth strategies."
Margaret Hamar – Professional Investor – Property Investing Network
I have seen Tony give talks on 3 occasions, his engaging and amusing stories help retain the core message of his talk. Tony has range of business knowledge and experience that he freely shares."
Lisa Ginns
Tony Gattari did an absolutely sensational keynote presentation on the importance of negotiation at the Business Blueprint conference last weekend. I had previously watched a video of Tony at a past conference and was excited to actually hear him speak live this time. I recommend Tony to anyone who can listen and learn from his expert knowledge and experience, regardless if you're in business or not. I was just amazed at the amount of quality content he shared with the audience and did it with an abundance of enthusiasm too. I sure look forward to reading and listening to a whole set of Tony's books and cd's for my own homework in the next 90 days!!"
Frances Charisma Hyu – July 24, 2012
Personally I think Tony Gattari needs to wear some kind of fluoro safety gear. His energy levels are just off the charts and somewhat unnatural. Tony is truly enthusiastic about business and people and it rubs off when you meet him. The energy is transferred and you can't help but feel lit up. Now energy itself is important, but Tony has some serious runs on the board with his wins in business. So you know that you are hearing words of wisdom earned through real life experience. It is also worth noting that Tony is not just someone with a pet theory. He is active in business - his ideas are tested against reality daily. If you get the chance to hear Tony speak or work with Tony - grab it!"
Stuart Gordon – Business Owner – MarketingCoach.net.au
I saw Tony for the first time at our Australians subsidiaries national conference and was so impressed I booked him for our NZ conference. I admire the passion that Tony can deliver. His delivery of the message is succinct and enjoyable. It's great when you come across someone who loves what they do. I have no hesitation in recommending Tony to motivate and stimulate your sales team."
Michael Farrugia – Managing Director – Hafele N.Z. Ltd
I heard Tony speak at a conference on the weekend - OH WOW!!! So much enthusiasm, I was hooked from start to finish. His presentation style is "one of a kind" and he has the most amazing amount of energy, as well as an exceptional knowledge on sales and negotiation. His knowledge in this field is outstanding. Any time I get a chance to hear Tony speak again, I will be there, as I was able to implement so much into my business the next day. Thank you for sharing your knowledge and humour Tony."
Samatha Riley – General Manager – Brunswick Seminars
There's no doubt that Gattari, now chief energy officer and founder of the Achievers Group, is a colourful character and an emphatic speaker. With quotable phrases and positive maxims slipped into every sentence, he's in demand as a speaker and trainer in sales and business strategy. It's clear he is comfortable communicating his ideas, and, not surprisingly, the sales world is lining up to hear them."
Sales Professional Magazine – September 2010
When we came to the decision to hire Tony Gattari, we had already programmed an entire 3 day conference of speakers and sequences. Our agenda was set to take each of the delegates into a new space in their minds and businesses. It was integral to programming, that we close this huge event with a big hitter! We needed to engage someone who would challenge, disturb and activate the audience of business owners and decision makers, cut through their tiredness in the final session and take the whole show out with a bang. It was easy to position Tony into this role. Our pre-brief by phone was almost de-ja-vu, as if Tony had been a fly on the wall in our 9months of prior planning meetings. He just got it, understood what we were asking of him and set about to deliver that and then some! Needless to say on the day Tony delivered over and above the call. What a great way to wrap an event. Loved it! We would happily recommend Tony Gattari to any event that requires a well delivered, challenging, motivating, business management and sales & marketing Guru. We will use Tony again and again."
Garth Taylor – Owner and Founder – One Event Pty Ltd
Thank you very much for the fantastic session you ran in our Swisse Sales Conference. Our team has continued not only to talk about the session, but most importantly they have put the skills they learned into practice. This is a huge testament to the way you got to know our business and the challenges that the Swisse team face out on the road day to day. Many of the Swisse team have talked about the success they have had with the concepts such as, building confidence with the first sale, adapting their sales style based on the personality of the buyer, and they feel far more confident in dealing with any objections that they come across. Having seen many different presenters, we loved the way you explain your concepts in a practical to the point way...is that the Eagle in us? We are heading towards a record month of sales which to some part can be attributed to your ability to invigorate the team with new ideas and fresh perspective. Thanks again from the happy and healthy team at Swisse."
Aaron Fitzgerald – General Manager – Swisse
Tony Gattari, the young salesman credited with driving the Harvey Norman Group to dominance in computer sales, typifies the Harvey Norman style: straightforward, passionate, optimistic and an enthuser on a grand scale."
James Kirby – Gerry Harvey Biographer
If the difference between good and great is in the "doing" – Then Tony is your man. Highly adaptive to any work group, insightful and entertaining. The thing that amazes me is the amount of cut through and recall Tony can get!"
Tim Edwards – Chief Operating Officer – Noel Leeming Group
Tony is the real thing. He engaged our employees at all levels and imparted a wealth of business knowledge and customer insights in a manner that was down to earth and inclusive. Tony's business experience, passion for people, his ability to influence and the very positive feedback received from attendees made him the right choice for our business seminar. Great stuff."
Greg Staveley – Manager – Systems and Capability Sydney Water
I listen and re-listen to what Tony says about business and marketing for three reasons: 1. I don't need a translator to interpret what he's saying, 2. His advice is deeply practical and 3. (the cherry on top)...he's entertaining."
Antoni Lee – Owner and Managing Director – Rhetorica
Tony was a Keynote speaker at our Cre8 Business Conference and was highly values by our attendees. He brought passion, vision and insights to marketing based on sound business principles. Tony has flair that set's him apart with presentations based on real stories and extensive experience. I highly commend Tony as a leading-edge keynote speaker and/or workshop presenter."
Peter Kentley – Owner – AMC
I first came across Tony on YouTube after a close friend had recommended him, after watching a few of his youtube videos I bought all of his DVD's, books and Audio's on business and on sales. I found his down to earth information on Business was great. You could feel that he knew his subject and most of all he was a seasoned business owner with a wealth of experience and knowledge. I then attended 2 of his seminars and all I can say is WOW, I took a few of my employees and a franchisee and the results of his thinking on the subject of sales and customer personalities and behaviors allowed the employees and franchisee to have a different view point of customers. Both the employees and franchisee got so much value from hearing Tony speak. How did I know they got value, they applied what they learned as soon as they got back to the service centers. That month and every month after wards the stats have gone through the roof and have grown every month since attending Tony's seminar. The Dapto Service Centre has doubled its Gross Profit since the employees attended the seminar. Tony will be brought in on all of our future franchisee and employee training's in the future. I myself have attended many sales seminars from the likes of Blair Singer, Zig Ziggler to Brian Tracy my own car has been a university on wheels for 23 years and for when you have been in the presence of these great sales teachers, I defiantly had a benchmark to place Tony and out of all of them I would rank Tony higher then all of them and I think it is down to the fact he has tested, tested and tested and the wealth of knowledge he has is unbelievable. He comes from the viewpoint of being a business owner himself. I would highly recommend Tony as a World Class Speaker, Trainer and seminar holder. Get your employees to Tony ASAP and watch the stats. Like mine they will double in short a time period. John Burns CEO and Founder of Computer Support Partners and yes you are quite welcomed to ring me on my mobile 0411604490 if needing a verbal testimonial."
John Burns – CEO and Founder – Computer Support Partners
Having heard Tony Gattari many times this man brings something new and exciting every time. His EXTRAORDINARY thinking is always Challenging and Empowering. Tony's personality and his tenacious energy has helped so many who have come to hear him. His honesty and integrity are at the paramount of what he stands for. It's a Pleasure to recommend "Mr. ENERGY"... Once you meet him, you will know what I mean!!"
Chris HeKeik – Managing Director – Mode Media
I run a registered training organisation providing nationally accredited courses across a range of industry areas. Tony provided an awesome, innovative and motivational presentation during a business blueprint conference in Sydney on 17th April 2010. His ability to hold the attention of the audience with expert knowledge in the area of marketing and selling is second to none. Tony uses simple language and fantastic metaphors to deliver complex concepts so the information is easily absorbed. I have personally gained a much superior insight into the world of selling and marketing as a direct result of Tony's presentation and would highly recommend Tony to any Business or Conference as a professional speaker."
Marc Kalme – CEO – Tactical Training Australia
I heard Tony speak at an event in Sydney the other week and was blown away. As a fellow speaker it really takes a lot to impress me. Tony is the full package. He engages, informs, entertains and gives you fantastic insights and practical ideas to be more successful in business and life. Bravo, you are a great speaker, excellent storyteller and a real pro."
Charles Marcus – Best Selling Author – Speaker and Strategist
Tony is a true thought leader in his field. Don't listen to people that say they know how to be successful – go to some that HAS done it – and that person is Tony. He is a true business expert – and fantastic speaker too!"
Craig Rispin – CSP – Futurist – FutureTrendsGroup.com
He first came into public view as the fast-talking sales hurricane behind Harvey Norman's computer superstores."
The Sydney Morning Herald
Whatever it is you're taking first up in the morning for brekkie I really want some of that each morning to get me started. Tony again I have seen a lot of people in action over my 30 years in business time but you my friend you are truly a Rock Star. I mean that I really do!"
Steve Conn – Managing Director – Abel Rent a Car
When you combine the passion of an Italian with the cheeky confidence of an Australian, you get Tony Gattari. Hang onto your seat ladies and gentlemen, this guy is not only entertaining and energetic, but he knows his subject inside out. The content he delivers is the real deal, (as a business coach myself, I know) and Tony Gattari is the real deal. He doesn't just talk it, he walks it."
Don Butler – Casdon Business Solutions – ActionCoach Business Coach
Tony certainly knows how to captivate an audience with his personable and down to earth manner. He delivers his presentation with the utmost confidence and integrity. He has a passion to help businesses thrive and with his knowledge and experience in this area makes it very easy to recommend Tony to anyone who is hungry to take their business to the next level."
Jane Allen – Owner – Style Edge
Tony spoke at a business conference we helped organise. His ideas were timeless and presented in a manner that anyone could understand and apply. The presentation was life changing."
Terry Young – Owner – Drummond Golf Lawnton, Maroochydore
Tony has the ability to easily inspire and motivate people, He is also one of the few business consultants that can, is and has "walked the talk". As a business owner looking for knowledge that ability is priceless."
Denis Withy – Managing Director – Shove Electrical NZ Ltd
Extraordinary, awesome, superb learning on the art of unleashing the potential you are capable of in selling. Tony reminded me the great reality. Anyone wants to "Sell Yourself First & Let the Client buy it"? If so meet Tony and he will tell you how he did it!"
Arshad Azad – Management Trainee: Training & Development
Tony Gattari is an effective and dynamic speaker. His passion and energy fill the room and sweep the audience to total engagement. Tony has challenged my thinking and revised my methods in business. I recommend Tony highly for any speaking engagement and am confident that the audience members will walk out completely energised and motivated."
Tony McInnes – Senior Account Manager – CSG Services Pty Ltd
Tony Gattari is a really inspirational trainer and motivational speaker. He has really fired our team up and helped us to position our offering at an enterprise level. Our sales team was blown away by his insight into different personality types of our customers/decision makers and the techniques on how to negotiate and close deals. We have subsequently engaged Tony to assist us with formulating a Sales and Marketing plan."
Jamie Duffield – Co-Owner Revolution IT
Tony is unique. He has a regular segment on our Business Essentials audio CDs and our subscribers love him. He knows sales better than anyone else we have used over 25 years. Not only has he achieved amazing results in the selling world he has the tremendous ability to teach others. He is a motivator extraordinaire because he has an ongoing passion and is an extremely likeable person."
Michael Schildberger – Executive Chairman of Business Essentials
The first time I heard Tony Gattari speak was at the "morning retail business breakfast on driving sales through outstanding marketing and services" at Cairns. My reason for attending the talk was primarily for networking, I received more than I expected. Tony insight into the business world echoed throughout the speech, the energy, involvement of the audience, entertaining no doubt mesmerised the audience, and the tip for businesses helped me analyse what was working in the business and what was not. In the end attending the talk was knowledgeable, entertaining, and a lot to take home and think about."
Komal Bandi – Managing Director – PI Data Consulting
Well what can I say...with high energy, a wealth of knowledge and experience, Tony is a straight to the point sales and marketing guru who is passionate about helping business owners get the results they deserve. Tony delivers practical tips and strategies that are not just fluff; they can be easily implemented into any business today. He gets you thinking outside the square and empowers and motivates you to do business at a whole new level."
Tania Allen – Founder Vision Alliance
I recently attended a presentation Tony Gattari gave as part of the NSW Governments 'Business Master Class' program. Focused, Engaging and at times confronting! Tony passionately delivered the fundamentals of business. Not your typical talk fest! Having held senior roles within Retail & Supply Chain, I'd previously learnt a number of these skills. It's surprising though (and a little embarrassing) that I'd actually stopped practicing some of these skills. Not so much by choice but by distraction... I recommend Tony Gattari as a great kick start for even the most seasoned professional!"
Dean Walker – Director – AxePax. Packaging
Tony Gattari is an energetic, engaging and thought provoking speaker who oozes credibility. He captures and holds your attention with his unique, insightful and relevant stories mixed with plenty of humor. As a professional speaker, trainer and coach I've seen many local and international business speakers and Tony Gattari is a speaker who is definitely worth catching."
Phil Lee – Managing Director – Sandler Training
Before having the privilege of listening to one of Tony's amazing motivational speeches I thought I knew a lot about business and being motivated. I was wrong, within a moment of Tony standing in front of me my heart and mind opened to a level I didn't know was possible. It was so long ago but what is amazing about Tony's work is, of all the seminars I have been to since then, Tony's is the only one I can remember, the only seminar that really did impact my life. There isn't a week that goes by that Mr. Gattari doesn't enter my head and fix a problem without him even knowing it. Speak to this man and your life and business will change! A man of knowledge, motivation, inspiration and integrity."
Aziz Elali Director – Pizzarazzi Franchise owner – Save On Bills Hoba
Credibility and enthusiasm are two of the key components to success. They are also something that Tony Gattari has in truckloads. Tony has worked with Beaumont Tiles to help inspire and educate our managers and Franchisees and we keep inviting him back ... so something must be working! I love the great mix Tony achieves between everyday practicalities of face-to-face customer contact with getting the philosophy right. I strongly recommend Tony's CDs and books for anyone who wants to capture or recapture an exciting vision for their business."
Bob Beaumont – MD of Beaumont Tiles – AUSTRALIA'S FAVOURITE PLACE TO BUY TILES.
Thanks for the thanks, and congrats on a great delivery. I even took notes, which is unusual for an event manager. 1. Make an irresistible offer. 2. Go to a thirsty crowd. 3. Get them to drink more than once. Great stuff! Cheers, Miles"
Miles Clemans – Event Manager – My Business Magazine
Tony spoke to Central Coast Business Swap about how to market and sell when buyers are reluctant. What a powerful presentation full of out of the box take home ideas to implement in our business straight away."
Simon Royle – President Central Coast Swap
Tony's energy is contagious and he presents in an engaging style that encourages audience participation. His presentations were well prepared, professional, and consisted of both practical information and thought provoking ideas. Those in attendance at Tony's Sales Success Seminar provided extremely positive feedback! Overall, he was a pleasure to work with."
Sue McCall – Member Services PGA Australia
Tony is a insightful and a gifted communicator. His thought provoking seminars are full of progressive ideas delivered in a very practical user-friendly manner. Tony is a true motivator who succeeds in getting people focused on what's important to succeed. The thing I like most of all is that he just doesn't talk about 'doing it' he has 'done it'."
Steve Lynch – Sky Partners
I have sat through more of Tony's presentations than anyone else. During my time at Achievers Group, I personally was involved in over 100 of Tony's presentations all around Australia and New Zealand. It always amazed me how Tony could relate to any audience – from High Powered executives to casuals who worked only 3 hours a week. They all walked away with more knowledge because Tony engaged them. If you want a boring speaker – DON'T HIRE TONY. If you want a speaker who will not only energise your people, but also give them real life practical strategies to improve their business or professional lives – THEN HIRE TONY."
Shaun Mooney – Chief Profit Maker – Profit Marketinge
I engaged Tony to speak at an industry conference as I have been listening to Tony speak on a business CD and he was very impressive with his thoughts. He engaged the audience very well with his true-life stories about how he built Harvey Norman's computer division and how he helps over 100 businesses continue to succeed. I am listening to his business mastery CD series at the moment and his teaching's are very real and pertinent to every business."
Matthew Denehy – Founder – Eagle Insuranc
Tony was employed by us to get a stronger bond with fellow workers. To bring together the Sales Team and the Administration Team. His style of delivery was fresh exciting and filled with energy. He is by far the best presenter that we have had"
John Watkins – Founder and CEO – Biocycle
Tony and I met in Portugal and spent an intensive training week together. Tony is the most charismatic trainer that I have met, not an act he really knows his stuff – as he is also the most learned, and studious, continuously reading books, thirsty for more knowledge – that he can transfer like no other. If you get the chance to go to one of his seminars it will change your life."
Terence O'Mahony – Owner – Icon Business Solutions
Tony Gattari delivers the fundamentals of business success without distraction from a short-term motivational buzz. His passionate and down-to-earth presenting style inspires strategic planning to implement within the business over the coming months and years, setting him apart from the stereotypical 'motivators' who make you feel all-powerful at the time but convey no meaningful message or ideas to actual help grow your business. With a 'real world' approach and practical suggestions, his teachings are simple to translate into everyday practice."
Paul Line – General Manager – Telcoinabox
Tony is a no nonsense down to earth communicator who can easily adapt to the audience – down & dirty through to professional & sophisticated – this is an art within itself & along with his clarity of thinking allows him to deliver training/consultancy that hits the money!"
Brett Johnson – Sales and Marketing Manager – Focus Press
Tony is an inspired speaker and formidable educator on all things to do with growing a business. His particular strengths are in the area of sales and marketing, and he's a fund of information on ways to find new business and improve a business's bottom line. His uncomplicated, common sense approach to doing business is refreshing. Everything Tony says makes sense and you wonder why more people don't think or speak like him! He is also a delightful person to work with – friendly and approachable and a man of his word."
Heather Dawson – Producer/Production Manager – Business Essentials
The Harvey Norman computer store managers left Tony Gattari's presentation pumped! His raw enthusiasm and obvious credibility in the subject matter had made significant impact on their understanding of the profession they were in – SALES. There was no skepticism. There was no confusion. It was without doubt one of the more relevant presentations I've I heard on sales."
Matthew Semple – Franchisee – Harvey Norman Computer Store – Auburn
I have had more positive feedback concerning your sessions, than anything we have ever done in the past."
Mike Jeffs – Managing Director – Network Communications
The impact on staff was dramatic to say the least."
Linda Austin – Harvey Norman Proprietor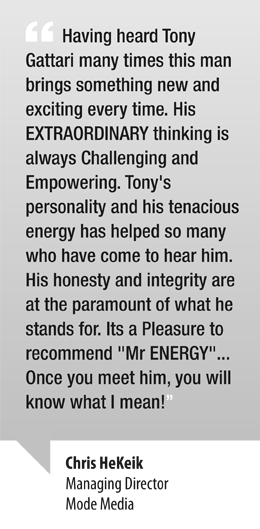 The passion and enthusiasm of Tony towards his work rubs off on the audience."
Geoff Van der Vegt – Harvey Norman Proprietor
Last night's address was powerful and impacting with lots of useful, actionable information. Your unique style is 2008 Australian – real, authentic – not froth and bubble– lots of take home "meat"."
Norman Philips The Bill Shrinkers
Tony creatively expands the realms of possibilities within individual lives. Tony genuinely builds people!. Tony's dynamic and powerful presentations will challenge your motive, mindsets and practical management skills. A clear and concise communicator, Tony creatively expands the realms of possibilities within individual lives. Tony genuinely builds people! Encouraging, motivating and activating the heart to believe for more. Wherever life's journey finds you today – glean from the experience of an individual whose passion will propel your destiny! It has been such a privilege to walk with one, whose motivation exceeds the boundaries of 'self', whose voice resounds with truth and integrity."
Zella Taylor – Staff – Residential Services, Teen Challenge NSW inc
I have everything published by Brian Tracy and Zig Ziglar, so it's no surprise I thoroughly enjoyed Tony Gattari's (The Achiever's Group) presentation....see, Tony, you do appeal to some 'owls'... Tony is a charismatic and entertaining speaker with a wealth of valuable insights to share. Tony spent time describing various personalities and how to deal with them. He pegged my type to a tee...it was almost spooky! What it also did was highlight to me one of my greatest weaknesses – what Tony called 'paralysis by analysis due to an unattainable need for perfection. So, I took some insight into myself away from Tony's speech along with an abundance of practical tips and tricks for working with other personality types. I purchased Tony's book, Marketing Success, while at the conference and from I have read so far, it's probably one of the first truly practical books for small business I've seen in a long time (and I should add, I consume at least one business book a week)."
Julie Lewis – Alan Lewis Accountants
Tony Gattari is an inspirational trainer and motivational keynote speaker. Not only is he entertaining but is also able to capture the audience's attention and take them on a journey with his great story telling skills in a down to earth Australian style. He provides attendees with practical sales and marketing strategies and creative ideas that he has learned over the years by doing them himself. He is passionate about helping businesses be successful."
Michael Topper – Genesys Wealth Advisers
I had the pleasure to be at one of his workshops. Insightful, funny and practical sales and marketing knowledge. Cannot wait to see his next presentation at Liverpool Chamber (NSW) end of October. Disclaimer: I am a Director of Liverpool Chamber. However, I cannot speak more highly about Tony. Own several of his books as well."
Daniel Doherty – Liverpool Chamber (NSW)
Tony is down to earth and people respond to that well. The staff was fascinated by the "real life" angle Tony uses."
Tim Edwards – Managing Director – Space Furniture
Your professionalism and enthusiasm shone through in your presentation and the audience left feeling inspired. It's a pleasure to hear someone who has such clear convictions and such clarity in communicating them."
Wendy Foster – President – North Sydney Chamber of Commerce
Tony Passion and enthusiasm for this is the driving force behind what we learned. Everything said came from experience and humility. There was no quick fix or empty promises simply common sense ideas with an outstanding approach"
Sam O'Brien – Resource Manager – Network Communications
Tony enthusiasm, passion is passed on to the crowd and mixed humour with wisdom, knowledge, role plays and activities. He had me awake all the time with only 4 hours sleep."
Dr Steven J Semaar – Medland Orthodontics
The guys here are unanimous in their praise for the workshop. They found it relevant, inspiring, accessible and fun."
Gillian Hyde – Contact Centre Manager – The Wine Society
Tony Gattari is a gifted marketing and business guru without the fluffy bits. We love Tony's pragmatic, no non-sense approach to business strategy. He is passionate, service minded and goes out of his way to add value to his clients. Furthermore, Tony is lots of FUN... please beware: his enthusiasm and boundless energy is contagious!!!"
Yulius Santoso – Director – Lucky You Found Me
Tony is one of those people who can capture a room to the point that audience are waiting for the next tip, guidance & practical solution that they can take back to their businesses. His message is one that all small business operators can relate & implement. A real pleasure to work with a person that i am happy to call a friend."
David Baumgarten
I've attended a number of Tony's seminars and likewise seen some of his presentations at our local Chamber of Commerce. I cannot speak more highly about his easy going nature, hands on approach to business marketing and development. His method of delivery is funny, exciting and personable; but jam packed with great ideas to help grow a business. I know it certainly has helped my business. I am still working through the mountains of notes supplied to us from the last seminar. I look forward to attending another seminar marked on my calendar this year."
Daniel Doherty
During my professional & personal life over the years, I have been fortunate enough to attend a large number of seminars and be trained and informed by many National & International sales, marketing & business professionals and experts. I must say that amongst all of those I've heard, Tony's Sales & Marketing messages and energetic delivery stand out as being amongst the most engaging, relevant, current and immediately practical sessions I have attended. He packs an enormous amount of information into bite sized pieces that can be used piecemeal or as a total system, to make an enormous difference to business direction & practices. He has recently helped clarify what the focus of my marketing messages needs to on to meet the needs of the current fickle generation. Thanks Tony, keep on spreading the word worldwide!"
Jo Hanlan
I sensed an exceptional quality in Tony – a passion, drive and focus packaged in authenticity– a quality I long for but have struggled to find in business circles. I thoroughly enjoyed Tony's presentation."
Rebecca Lloyd
I worked with Tony for a couple of years during my time at Harvey Norman and have kept in contact as we have both progressed during our careers. Much of my success today I can attribute to Tony's guidance, passion and energy. Always one to break things down into their simplest forms, focus on what needs to be done to achieve results and have the energy to follow things through. Tony's success still has its mark on the Australian industry today with Harvey Norman still a dominant player in the consumer electronics marketplace. I have been lucky enough to be involved with or work with other retailers who even today still strive to achieve what Harvey Norman has done. Tony has taken the learnings gained from his grass roots heritage, corporate career history and family life to deliver a unique view on business and life. His books, positive rants, teachings & speaking engagements deliver what is missing from a number of 'normal' presenters – true passion, energy, enjoyment and a practicality that everyone can relate to, whether teenager working out their life path or corporate high flyer looking for new inspiration."
Paul D'Ambra
What a wealth and knowledge and experiences. Loved the stories, the metaphors and the applicability of what your shared. Brilliant and down to earth – Thank you."
Karen Calson
Tony shared some valuable insights in the world of marketing in today's economic climate. His articulate and entertaining style had the audience captured from start to finish. Everyone in the room will no doubt have walked away with some amazing information and useful tips to ensure that their own marketing strategy gets the boost it needs to gain an edge in the marketplace."
John Nawotka
Congratulations on your fantastic performance full of great information- well done! Many people said you're the best we have had for a long time – so keep up your great work and have a wonderful year ahead. Thank you, so much from all at Gold Coast Business Swap."
Michelle Peden
Once again thanks for the invitation to the breakfast this morning. He was without doubt the most inspirational keynote speaker I have ever heard. I would like to see his reaction to our industry with all its regulations and politics. I thoroughly enjoyed the morning."
Ranine
You have inspired us."
Shane and Nina Roberts
Life and business changing – starting from today: new ideas, new systems, new incentives, new beginnings."
Doug Webber – Webbers Retravision
Tony was amazing! He really motivated the conference!!! The best thing about Tony was that he took the time to find out about our business culture before he delivered his presentation. It was more than a sugar fix! This was the first conference we have had where our delegates had an actual action plan to work off. The information that he shared was relevant, direct, educational and very inspirational. Tony presentations are 'down to earth', humorous and very high impact. His presentation will be one that our franchise owners will continue to talk about for years to come. Thanks again Tony.... just brilliant. :)"
Kelly Hutchinson – National Operations and Training Manager at Just Cuts
---