Our Partners
We have selected a first-class group of partners to get the results you deserve.
---
Management Consultants
Improve your performance, realise you business's potential!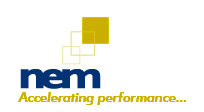 nem was formed in 2000 with a view to adding value to Small to Medium Enterprises (SMEs) via a matrix of excellent professional services and hands-on experience. These services are provided by highly qualified, exceptionally experienced business executives; all with the capacity to deliver both theoretical and hands-on solutions.
nem is not industry focussed, it is outcome focussed; which means while you as owner/manager/proprietor are probably extremely capable at generating the goods and services you present to your customers...you may well benefit from expert assistance if you are to also maximise the capability of the business surrounding these activities.
nem is highly regarded for its ability to research individual business organisations, understand pertinent issues facing the business, its customers, its suppliers, its staff and its stakeholders; and then to develop hand-tailored, highly effective business solutions, regardless of the size of your enterprise.
nem has over 40 specially selected representatives throughout Australia. If you would like to experience a rapidly accelerating business, growing both strategically and profitably, nem can help you.
Contact Vic Dorsen at nem directly.
Vic Dorsen – Partner
Mobile: 0412 203 226
Direct: 02 8905 1025
Fax: 03 9809 8899
Email: vdorsen@nem.net.au
Web: www.nem.net.au
---
Better Business Group
"More Sales, Profits And CASH In Your Business"
Better Business Group Australia is led by Yale Morgan, who has more than 20 years experience in the retail sector, also building and supporting other businesses throughout that time. He has previously had interests in real estate as well as active and passive investments in retail stores. Along the way, Yale has trained literally hundreds of people in all aspects of business, including administration, logistics and distribution and of course sales and marketing.
Being a successful Harvey Norman franchisee for nearly 15 years, and founder of The Baby Superstore, Yale Morgan Consulting and Better Business Group Australia, he brings a wealth of experience in building both existing and new businesses along with a flair for sales and marketing with also the ability to effectively communicate and build a strong team of people. Coupled with strong business "nuts and bolts" fundamentals. With systems designed to put more Sales, Profits And CASH into your business!

With an emphasis on "empowering your team" his core philosophy in approaching business is "Raving Fans", not only do we need our customers to jump with joy when having contact with every aspect of the business, but just as importantly, the team must have the same experiences. Yale's belief in any business is "if you're not serving the customer, you better be serving those that are".
Among his list of SME clients, Yale has had the opportunity to work with The Jim's Group coaching Jim's Mowing Franchisors in Queensland, ACT, South Australia And the UK. Yale also worked in a coaching capacity for over twelve months with Bundaberg Brewed Drinks, home of the world famous Bundaberg Ginger Beer.

As of 2011, Yale heads up the Better Business Group (BBG), which, as a company has proven business development products and systems, that range from "Do It Yourself" products to fully systemised Business Coaching Programs. The BBG by-line is "Finding The Diamonds In Your Business - Your Stepping Stones To Financial Freedom".
BBG has business development specialist in Australia and New Zealand. The products and systems we use were developed by Damien Parker, known in Australasia as "Mr Small Business", his company, Business Publications Australia (BPA). BPA had a prestigious history, it helped literally thousands of business owners see more Sales Profits And Cash via it's range of Business Development Products. BPA had won the Q400 award for business excellence and product sales exceeding 50 million dollars!
These products and systems that were the success of BPA are now available through BBG.

The point of difference that BBG has as an organisation, which in our view, makes it unique, is that we are very flexible, we look at what's missing from a business look for the opportunities and suggest solutions via our range of products and systems. We don't have a "one fix for all" strategy. And because of this approach, we are extremely cost effective and provide and provide excellent value to our clients. Because our business solutions have a totally proven track record, we back ourselves 100%. BBG helps business owners toward their goal of Financial Freedom, we encourage business owners to place the EXTRA profits that our systems help generate into an investment account rather than disappear back into their business. (yes, there is a system for this)
The 4 ways your business could benefit:
Simply buy the appropriate "Do It Yourself" Manuals. These are written in a manner that is easy to read and follow. We have found that often business people simply don't have the time or inclination to try and follow complex manuals.
The second, and often the best results is by us either providing product and some support time or providing a Coaching Program supported by the relevant business development material. This is by far the most popular option with most of small to medium business we work with.
The third way is that you could provide a consulting service where you do some or all of the work.
Complete Sales training facilitation and a systemised approached to increasing conversion rates and maximise every sales opportunity in your clients business.
If you're ready to increase your bottom line by making as small changes to your business then contact me now!
More Information

Address: U5 Commerce North,
51-53 Perry Street,
North Bundaberg QLD 4670
Phone: 1300 711 743
Web: www.betterbusinessgroup.com.au
---