Books - Business Success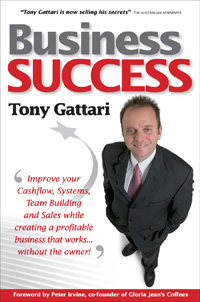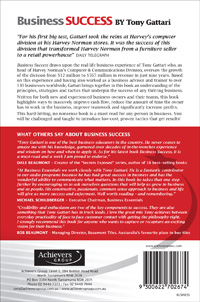 $24.95
Category : Books
Author : Tony Gattari
Business Success draws upon the real-life business experience of Tony Gattari who, as head of Harvey Norman's Computer & Communications Division, oversaw the growth of the division from $12 million to $565 million in revenue in just nine years. Based on this experience and having also worked as a business advisor and trainer to over 130 businesses worldwide, Gattari brings together in this book an understanding of the principles, strategies and tactics that underpin the success of any thriving business.
Written for both new and experienced business owners and their teams, this book highlights ways to massively improve cash flow, reduce the amount of time the owner has to work in the business, improve teamwork and significantly increase profits.
This hard-hitting, no nonsense book is a must read for any person in business. You will be challenged and taught to introduce low-cost, proven tactics that get results!
---
Testimonials
After reading Tony Gattari's new book Business Success I wanted to take a minute and let you know how good it is... The knowledge is very practical."
Wez Hone
"In business we all need practical down to earth business advice-not another motivational book. Tony Gattari brings this advice by being direct and open about his experience. Tony not only experiences business day to day but lives and breathes business."
Peter Irvine Co – Founder Gloria Jean's Coffees and author Win In Business
Credibility and enthusiasm are two of the key components to success. They are also something that Tony Gattari has in truck loads. Tony has worked with Beaumont Tiles to help inspire and educate our managers and Franchisees and we keep inviting him back! ... so something must be working! I love the great mix Tony achieves between everyday practicality of face to face customer contact with getting the philosophy right. I strongly recommend Tony's CDs and books for anyone who wants to capture or recapture an exciting vision for their business."
Bob Beaumont – Managing Director Beaumont Tiles
If you want to be entertained, enlightened and inspired by a down to earth view on growing your business, then this is the book for you. If you like the books that have lots of theories and blue sky thinking, then probably put this back on the shelf. Tony through his own experience is able to deliver a practical, pragmatic and very realistic approach to doing things in your business to be successful, it's as simple as that."
Paul D'Ambra – National Channel Sales Manger – Logitech Australia
From an impressive short read of his business life Tony strikes you as someone who can deliver what he teaches as he has done over the years. His energy is infectious and his passion is deep and he is the sort of person that won't stop until he succeeds in making a difference in life. I like Tony's books as they are not just simple and practical, but simply informative."
Matthew Denehy – Managing Director Eagle Insurance Broker