CD - Marketing Success - Audio Book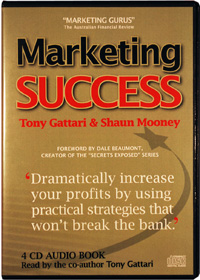 $29.95
Category : CD
Author : Tony Gattari & Shaun Mooney
'Dramatically increase your profits by using practical strategies that won't break the bank'.
Marketing Success draws upon the real-life practical experience of Tony Gattari, who headed up the Harvey Norman Computer and Communications division, overseeing the growth from $12 million to a massive $565 million in 9 years. Through his experience and working as a corporate/business advisor and trainer to over 100 businesses worldwide, with fellow co-author Shaun Mooney, the book highlights the power of marketing.
Here you will learn low cost practical marketing strategies to create a perception of value so to eliminate the issues of "price". This hard hitting, no nonsense book is a must read for all those in business who desire to accelerate their sales and profits immediately!