CD - Business Success - Audio Book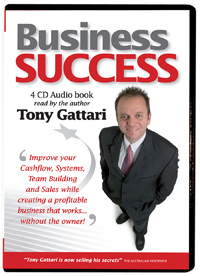 $29.95
Category : CD
Author : Tony Gattari
Business Success draws upon the real-life business experience of Tony Gattari who, as head of Harvey Norman's Computer & Communications Division, oversaw the growth of the division from $12 million to $565 million in revenue in just nine years. Based on this experience and having also worked as a business advisor and trainer to over 130 businesses worldwide, Gattari brings together in this book an understanding of the principles, strategies and tactics that underpin the success of any thriving business.
Written for both new and experienced business owners and their teams, this book highlights ways to massively improve cash flow, reduce the amount of time the owner has to work in the business, improve teamwork and significantly increase profits.
This hard-hitting, no nonsense book is a must read for any person in business. You will be challenged and taught to introduce low-cost, proven tactics that get results!