Books - Win in Business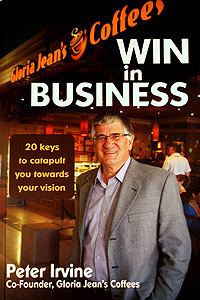 $24.95
Category : Books
Author : Peter Irvine
'20 Keys to catapult you towards achieving your vision'.
The man who helped guide the phenomenal success of Gloria Jean's Coffees in Australia unearths 20 priceless keys to catapult you towards your vision. Peter Irvine reveals behind-the-counter stories about the amazing success of this award-winning coffee franchise… as well as other brands he helped to build in Australia, such as McDonald's and the MacTime concept.
If you would like to create a remarkable, stand-out business, then WIN in BUSINESS provides the essential framework to thrust you to the front of the line. This book provides comprehensive, step-by-step guides to activate your vision, help you overcome the challenges along your journey, and squeeze the most out of your vast potential.
But this is not just any book on business success. Peter Irvine uncovers age-old secrets to living a fulfilling life through great relationships, a generous attitude and healthy mindsets. Through practical examples from his own life, the author serves up some delicious dollops of vision, determination and inspiration.
Above all, this book has the potential to profoundly change the course of your life and your business. If you want to steer your business to extraordinary levels, this book is for you!
---
Read a review by Daystar
---
Testimonials
In my life I have been fortunate to have been involved in many people who claim to be "successful ". Peter success in business and life is a glowing example of what true success is about. Humility, transparency , and a genuine love for people are the hallmarks of Peter's life. Peter is not only successful he is significant, leaving a legacy of how he has helped so many people around the world. This book is an another example of Peter contribution to all of us. Thanks Peter for being part of my life."
Tony Gattari - Managing Director - Achievers Group
When it comes to meeting people who think "big", i can't think of anyone else like Peter Irvine. To have a vision for 25 Gloria Jeans Coffee stores and then have the determination and vision to see it grow to over 400 plus take it around the world, shows the depth of his belief and commitment to following a BIG vision. I'm always inspired whenever I hear him speak, and have learnt many valuable lessons over the years."
Jason Berry - General Manager - 96five FM, Brisbane
The message I received from Peter Irvine when I first met him was … never live in other people's mindsets. I considered that advice and reflected upon my own career and those around me and made some changes. To my great surprise I have learnt that Peter was right. Too often we can be influenced by others and not have the resolve to achieve what we want or need. Living in the mindsets of others that perhaps are negative or sowing bad seeds into your mind affecting your confidence can have a direct impact upon what you do and what you achieve. Peter has shown throughout his distinguished career that having a clear focus and an attitude of positive persistence can lead to remarkable things for you and those around you. Mix these competencies with ethical behavior and a willingness to help others and you begin to understand some of the core principles within Peter Irvine and then understand why he has been so successful. Some one once said – always listen to a wise man, Peter Irvine is such a man."
Richard Evans - CEO – Franchise Council of Australia
Peter Irvine has met with me regularly while I was working for another company, and also since I started my own business. He was able to encourage and provide ideas, on how to work with a difficult boss and still be able to exceed targets and build a sales team around the country. I was encouraged to go for it, and eventually the decision was made to resign and start my own business. The advise regarding setting up a warehouse, and just the "nuggets of Gold" of business information and direction and encouragement, and challenge has catapulted my business significantly forward."
Trent Fitzgibbins - Director - Jetblack Products Pty Ltd
Peter has been a close friend and confidante for a period of thirty years from early days at DDB, through the roll-out of Gloria Jeans Australia to the present day. His creative thinking, "just-do-it" attitude and the ability to communicate at all levels have stood by him handsomely and his success is totally deserved. Yet through it all, he remains unassuming and unpretentious.

He is one of the most generous and compassionate men I have known . 'Giving' to others in terms of time, effort, resource and personal advice is one of his special gifts and his willingness to share his expertise finds special expression in this book. I can recommend it without reservation."
Dr Ernest F Crocker BSc(Med) MBBS FRACP DDU - Consultant Physician In Nuclear Medicine