Books - The Pillars of Business Success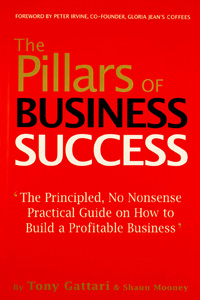 $24.95
Category : Books
Authors : Tony Gattari & Shaun Mooney
'The Principled, No Nonsense, Practical Guide on How to Build a Profitable Business'
The Pillars of Business Success draws upon the real-life corporate experience of Tony Gattari, who headed up the Harvey Norman computer and communications division for nine years, overseeing the growth from $12 million to a massive $565 million in 9 years. Through his experience and working as a corporate/business advisor and trainer to over 90 business worldwide with fellow co-author Shaun Mooney, the book highlights the biblical principles that underpin the success of any truly successful business. For business owners and their teams this book highlights ways to improve cashflow, reduce the time the owner works in the business, improve teamwork and massively improve profits. The author challenges and educates the reader by giving them immediate tools and strategies to improve their business performance.
---
Warcry Magazine rates it "4 stars!"
---
Testimonials
The man credited with tightening Harvey Norman' extraordinary grip in the retail PC market, Tony Gattari is now selling his secrets."
The Australian Newspaper
Straightforward, passionate, optimistic and an enthuser on a grand scale. Tony Gattari, the young salesman credited with driving the Harvey Norman Group to dominance in computer sales, typifies the Harvey Norman style: straightforward, passionate, optimistic and an enthuser on a grand scale."
James Kirby - Gerry Harvey Biographer
Gerry Harvey - Business Secrets of Harvey Norman's Retailing Mastermind
Credibility and enthusiasm are two of the key components to success. They are also something that Tony Gattari has in truck loads. Tony has worked with Beaumont Tiles to help inspire and educate our managers and Franchisees and we keep inviting him back! ... so something must be working! I love the great mix Tony achieves between everyday practicality of face to face customer contact with getting the philosophy right. I strongly recommend Tony's CDs and books for anyone who wants to capture or recapture an exciting vision for their business."
Bob Beaumont – Managing Director Beaumont Tiles
Tony Gattari, who flourished as a computer retailer in the 1990's, but failed as an online entrepreneur, has resurfaced as a motivational speaker and business adviser. He said his internet misfortune made him better placed to give advice. Computers made up just 5 per cent of Harvey Norman sales when Mr. Gattari joined in 1991. When he stepped down nine years later, the division was turning over $565 million a year, or 30 per cent of the franchise's total sale."
The Australian Financial Review
I'm not into motivation, I'm into action because a lot of people can get really hyped up but what happens is the feeling goes and the key to running a business is you've actually got to change things in order for the result to change."
The Western Australian
The Western Australian Tony Gattari Interview with Keith McDonald